Service
Metagauge and Blockchain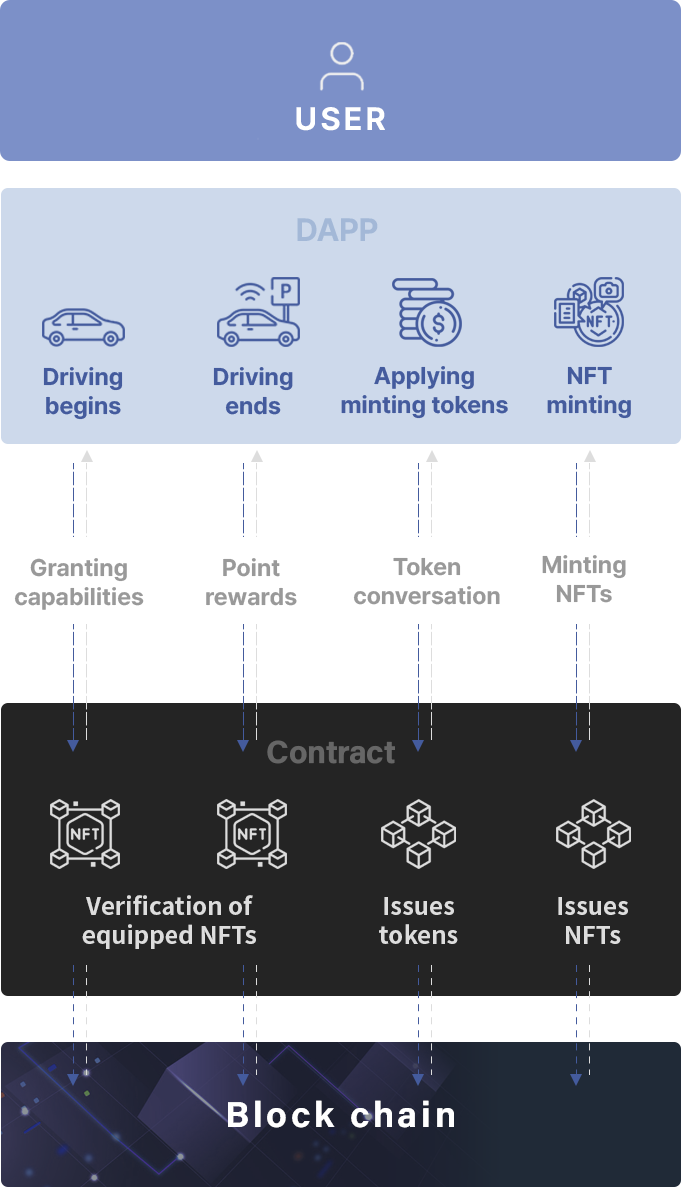 MetaGauge is a platform that provides a 'Mobility to Earn' service that integrates the user's driving data, and mobile data to ensure ownership of the data and fair compensation. MetaGauge aims for Web 3.0 and allows users to freely create data and participate in the governance ecosystem by receiving tokens at a fair price.

The DApp of the metagage allows you to generate driving data and mobile data to obtain ROD TOKEN.

In addition, NFT PARTS can be acquired based on data generation and ecosystem contribution. The acquired NFTs have their respective capabilities and rarity, depending on their grade. Users can create their own NFT by assembling NFT PARTS DIY. The rareness of NFT affects MGR Governance TOKEN mining limits.

More ROD TOKEN and NFT PARTS will be given through various events and visiting missions.
Mining mode

DRIVE

DRIVE mode is a mode in which DApps running in the background automatically start recording when movement is detected at a constant speed. The recording is automatically terminated when detected moving below a constant speed.

DRIVE mode is also supported when using various forms of mobility such as subways.

You can generate mobility data and earn rewards on the premise that you use transportation to drive on the road without having to drive in person.

RUN

mode starts only with manual start BUTTON

Rewards can also be earned for daily movement other than mobility.

RUN mode can be automatically shut down. It automatically shuts down when you stay stationary for 5 minutes.

My Trips

View Records

You can check the record of your movement by date.

You can see various information, such as where you moved and how far you moved.

Users can check detailed driving habits such as sudden departure and sudden stop.

Get Rewards

Users can be rewarded for the value of (mobility data, movement data) generated mobile data.

You can get more rewards depending on the speed and distance you travel.

The NFT and driving habits that the user is wearing affect the rewards

Token System

POINT and TOKEN

Metagauge provides points as a reward for the user's data generation. The types of points that a user can earn are RP and MP.

RP and MP acquired by the user can be exchanged (swapped) for meta-gauge tokens. 1:1 exchange (swap) is possible for RP → ROD TOKEN and MP → MGR TOKEN.

After completing the data generation, the user can acquire a meta-gauge point, ROD POINT (RP), with a simple touch.

Inventory (NFT system)

META BOX and ITEM

Users will acquire META BOX through various events, missions, etc.
If you open this METABOX, you can obtain ITEM PARTS with a certain probability.

ITEM PARTS contain information to produce DIY-NFT (NFT's capabilities, ratings, etc.)

If ITEM PARTS is minted by consuming ROD, it becomes NFT PARTS.

NFT PARTS

Metagauge has eight types of NFT PARTS, and you can make your own DIY-NFT by installing compatible PARTS.

NFT PARTS have five grades: Common, Rare, Epic, Legendary, and Mystic.
The NFT level is applied depending on the number and grade of installed NFTs.

MP mining is possible only when the NFT level is 20Lv or higher.